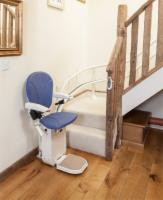 While most customers assume that installing a custom fit stair lift in their home is well beyond their budget, the AmeriGlide Platinum Curved Factory Reconditioned Stair Lift offers an incredibly affordable model. By offering a new track, especially designed and cut to fit your home, and a used carriage that has been completely cleaned and restored, we are able to reduce costs and save you money.
Every reconditioned model will offer the same smooth and reliable performance as a new model. This compact model comes with a 264 lb. weight capacity, ergonomically designed seat, and safety sensors that can detect and avoid obstructions!
Call us today to get started!